Celebrating the Colorado Plateau
The Entrada Institute serves the public as an arts and educational center to promote public understanding and appreciation of the arts, the natural, historical, and traditional cultural heritage of the high desert Colorado Plateau, and to foster community-based economic development in Wayne County, Utah and the surrounding region. This nonprofit organization also supports artists, writers, scholars and scientists in their development of new works.
---
Friends and Supporters
It's hard to believe that our next season will mark Entrada Institute's 20th year of providing opportunities for artists, humanities scholars, writers, scientists, and performers from Utah and the surrounding region to develop and share their work. Find out how you can help!
Learn More...
Capital Campaign
The Entrada Institute has begun a Capital Campaign. We need your support.
Learn more
...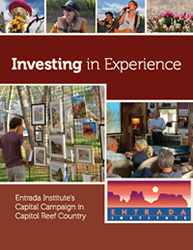 Support Entrada
Donations to the Entrada Institute supports the variety of events and projects that have added access to arts and cultural activities in a rural Utah setting. Entrada is a 501C-3 non-profit membership organization, donations are tax-deductible.
Event Programming
Citizen Science Project: Dark Skies over Torrey-Teasdale-Grover
On Saturday Night October 1, come join the biannual Citizen Science Night Sky Monitoring event for Torrey-Teasdale-Grover.
One Big Union: SLC Tickets On Sale Now
Purchase your tickets today! To purchase tickets, go to http://www.entradainstitute.org/onebigunion/ EVENT INFORMATION Thursday, November 9, 2016 Rose Wagner Performing Arts Center, SLC – ...
October: A Month of Friendship and Fundraising
Come celebrate the Fall Harvest with a month of activities. October is filled with friendship and fundraising at the Entrada ...
Scholarship Program
Artist-in-Residence
Entrada Institute's 2016 Artist in Residence Announcement
Each year, the Entrada Institute names an Artist-in-Residence. The 2016 ...
Artist-in-Residence Program 2016: Apply Now!
The Entrada Institute will award a stipend to ...