Sign up for our email list!
Get the latest news on Entrada Institute news, events and happenings. [CLICK HERE]
We Need Your Support
Give Wayne County
Please DONATE today.
---
Celebrating the Colorado Plateau
The Entrada Institute serves the public as an arts and educational center to promote public understanding and appreciation of the arts, the natural, historical, and traditional cultural heritage of the high desert Colorado Plateau, and to foster community-based economic development in Wayne County, Utah and the surrounding region. This nonprofit organization also supports artists, writers, scholars and scientists in their development of new works.
---
Friends and Supporters
It's hard to believe we're celebrating 25 years of providing opportunities for artists, humanities scholars, writers, scientists, and performers from Utah and the surrounding region to develop and share their work. Find out how you can help!
---
Capital Campaign
The Entrada Institute has begun a Capital Campaign. We need your support.
Learn more
...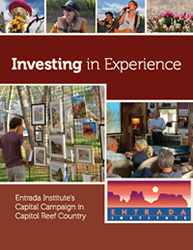 ---
Support Entrada
Donations to the Entrada Institute supports the variety of events and projects that have added access to arts and cultural activities in a rural Utah setting. Entrada is a 501C-3 non-profit membership organization, donations are tax-deductible.