New Website Soon!
Thank you for your patience with our old website. We're working diligently on a new site that will launch in May. In the meantime, if you're looking for a 2019 Event Calendar [CLICK HERE]
Sign up for our email list!
Get the latest news on Entrada Institute news, events and happenings. [CLICK HERE]
Celebrating the Colorado Plateau
The Entrada Institute is dedicated to preserving and celebrating the natural, historical and cultural heritage of the Colorado Plateau. The Entrada Institute is headquartered in Torrey, Utah, the gateway to Capitol Reef National Park. A 501(C)(3) nonprofit organization, Entrada hosts events including lectures and concerts, sponsors scientific studies and creative work, and extends scholarships to local students. We are passionate about the history of this land and its people, and we're dedicated to ensuring the vitality of the region for future generations.
---
Friends and Supporters
It's hard to believe we're celebrating 25 years of providing opportunities for artists, humanities scholars, writers, scientists, and performers from Utah and the surrounding region to develop and share their work. Find out how you can help!
---
Capital Campaign
The Entrada Institute has begun a Capital Campaign. We need your support.
Learn more
...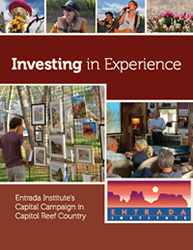 ---