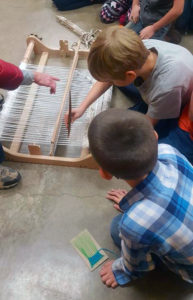 Weaving Across Wayne County
From baskets to rugs, weaving has been part of the cultural heritage of Wayne County for thousands of years. Locally, people associated with the Fremont and later the Southern Paiute cultures wove baskets using local fibers such as willow branches and pine needles. They gathered the resin from Pinyon Pine trees to make pitch that was used to create water-tight baskets to carry water.
When the pioneers arrived in the late 19th century, they brought their European heritage of weaving rag rugs and woolen products with them. Thanks to the many local volunteers including Diena Riddle and Barbara Czapla who are sharing these traditions during our 4-H youth program.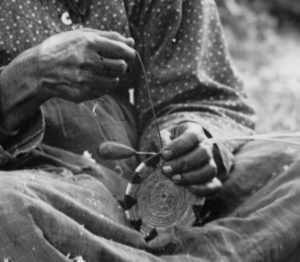 The free community dinner associated with the weaving theme will be held on Wednesday March 14 at 6PM at the Wayne County Community Center in Bicknell. If you're planning to come, please call the USU Extension/4-H Office at 435-836-1312 or Annette Lamb at 435-425-3415 to let us know you're coming.
We're looking for local weavers who would like to share their work in our demonstration and exhibition area during the dinner. Bring a final product to share and/or bring your loom and show how your works are created.
Our theme focusing on Chickens: Hatching, Raising, and Consuming is getting started March 8 with the dinner being held on March 28. Youth will be learning about incubators and raising chicks.
If you're involved with chicken and egg production and would like to share your expertise, please contact the USU Extension/4-H office. Send us historical photos, pictures of your chicken houses, or your favorite chicken techniques. Contact Project Director Annette Lamb at info@entradainstitute.org or call 435-425-3415. This project is made possible through a generous grant from the National Endowment for the Humanities and the Entrada Institute. LIKE us at facebook.com/sparkinghumanities. – Annette Lamb, The Entrada Institute
Photo Credit: 4-H youth learn about weaving. Photo by Mary Sorenson
Photo Credit: Paiute Woman Weaving Basket. Library of Congress, 1902
There is no related post.