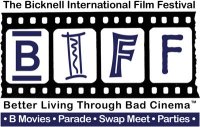 BIFF is the Bicknell International Film Festival. Held each July, the festival includes the "best of B-movies" featuring the bad, bizarre, and just plan strange films centered on the festival theme. In the past, this fun event has focused on the themes of aliens, superheroes, and cowboys.
In addition to the three films, the festival features a parade, parties, and lots of other activities including an independent film award.
The Entrada Institute is one of the sponsors for this great event!
Learn more at the BIFF website.
BIFF2013
The theme for BIFF 2013 has been announced. Get ready for some BAD, BIZARRE, "B" musicals!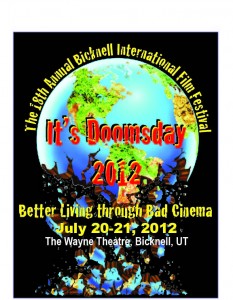 BIFF 2012
For 18 years, the Bicknell International Film Festival (BIFF) has entertained film fans. The festival's overall theme is "Better Living through Bad Cinema." Focusing on the worst of "B-grade", bad, or simply bizarre films, each year the BIFF committee selects three movies that reflect the best of the worst for a particular theme and celebrates the fun of bad film.
From interpretations of the Mayan calendar to predictions made by religious zealots, people have envisioned the end of time since the beginning of civilization.
Tied with this goofy idea, this year's theme is "It's Doomsday 2012!"
Go to the BIFF 2012 page to see photos and videos from the 2012 event.
SCHEDULE FOR 2012
Friday July 20
5:30 Parade Lineup at Red Cliff Restaurant
6:00 World's Fastest Parade (Torrey to Bicknell)
6:40 Doomsday Video Montage 1
6:50 Introductions, Costume Contest, Trivia, & Raffle
7:00 Movie Countdown
7:05 Panic in Year Zero (93 minutes)
It's time to panic with our feature PANIC IN YEAR ZERO! A family of four leaves Los Angeles for a camping trip just before a nuclear bomb destroys the city. As lawlessness prevails, the father must fight to keep his family alive! Don't miss one of Frankie Avalon's first films playing a 20-something teenaged heart throb. You'll be asking deep questions like… Why are the women wearing dresses on a camping trip? Why do the same cars keep passing them on the road? How does their hair stay so nicely curled during the collapse of civilization? Be sure to shave every day to remain civilized!
8:45 Reminders
9:00 Party at Rim Rock Patio with the Sister Wives (Located on Hwy 24 east of Torrey)
Saturday July 21
12:00 Bicknell Park Survivor's Lunch
12:30- Doomer's Challenge at Bicknell Park
1:30 Compete in four events to win fabulous prizes!
Save the Earth Relay
Hydro Hustle
Anyone Out There? Challenge
"Dit Dah" Dash
2:10 Doomsday Video Montage 2
2:15 Trivia, Raffle & Doomer's Challenge Awards
2:25 Movie Countdown
2:30 Crack in the World (96 minutes)
We looked long and hard for a truly awful movie worthy for our matinee. This doomsday disaster film is a combination of natural and human-made disasters that may cause the end of the world! Let's just say, it's a disaster for the world as well as for movie viewers. Will the crack cause the world to end or will our hunky geologist be able to stop the mayhem? Our BIFF Board will once again provide visual commentary in Mystery Science Theatre style on a sidescreen for the matinee.
4:00 Reminders
6:40 Doomsday Video Montage 2
6:50 Wayne Award
6:55 Film Contest, Trivia, & Raffle
7:20 Movie Countdown
7:25 When Worlds Collide (83 minutes)
Scientists have confirmed their worst fears. A star called Bellus is on a collision course with Earth! The end of the world is only a few months away. Will you be one of the lucky few to escape in a spaceship to the planet Zyra? When Worlds Collide may not be "bad" or "B" but it's definitely a bizarre blockbuster. The special effects used to create massive earthquakes, volcanic eruptions, and tidal waves are hilarious by today's standards, but won the movie an Oscar in 1951. This classic worthy of our BIFF grand finale Saturday Night.
9:00 Party at Robber's Roost with the Revelators
(Located on Hwy 24 near downtown Torrey)
Follow the Facebook page for up-to-date information about the festival.