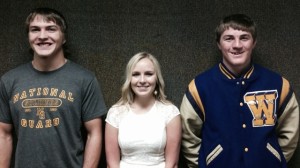 Both cowboys and cowgirls from Wayne High School participated in to the annual poetry-writing contest.
Preston Stephenson will recite his 1st place poem, "Ol'Red" at this weekend's Cowboy Music and Poetry Festival.
Braydee Webb won second place with her poem, "A Small Town Life."
Bryan Batty took third place with his poem, "The Hunt."
Each winner will be the recipient of a cash prize at this week's award assembly at Wayne High School. Congratulations to the winners and thanks to everyone who participated in this year's contest.