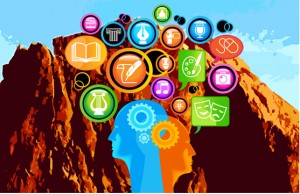 Each year, the Entrada Institute names an Artist-in-Residence. This financial award goes to a writer or artist to support work that encourages dialogue and discovery about the natural treasures and peoples of the Colorado Plateau.
Applications for the Entrada Artist-in-Residence stipend are due in May each year.
The Artist-in Residence program is intended to support artists, writers, humanities scholars, and earth and social scientists in their development of new works, and to promote understanding and appreciation of the natural, historical, and cultural heritage of the Colorado Plateau.
Entrada has awarded the annual artist-in-residence grant to artists and writers working on a variety of projects for over a decade.
The 2018 Call for Proposals is available as a PDF file.
For more information, read the 2018 Call for Proposals.
Recent Artist-in-Residence Recipients
Rebecca Bailey (2016) is a nonfiction author. The title of her project is "The Spirituality of Desert Women: Marie Ogden and the Home of Truth".
Kate MacLeod (2015) is a singer-song writer.
Kate Aitchison, Collin Haffey, and Cari Kimball (2014) are a multi-disciplinary trio who will combine art, science, and activism to show how the landscapes and ecosystems of the Colorado Plateau reveal the effects of habitat fragmentation, invasive species, and energy development.
Jeffrey Gold (2013) is an award-winning screenwriter, playwright, and composer. His screenplay focuses on the life of a uranium miner.
Dr. Marden Pond (2012), a composer, arranger, conductor, producer, author, and educator created a musical multimedia tribute to the Colorado Plateau titled "Visages in Stone – Voices in the Wind". Learn more at Marden Pond.
Dr. Will South (2011), a noted art historian wrote an essay for publication about the life and art of the late artist V. Douglas Snow.
Ann Torrence (2010) used the award to create a photographic essay about volunteerism in Wayne County, Utah. Learn more at Ann Torrence.
If you are interested in applying for the Entrada Artist-in-Residence award, please send a non-returnable portfolio of your work and a letter or email that describes your proposed project and demonstrates how it supports Entrada's mission.
Would you like to contribute to the Artist-in-Residence program? Use the Paypal link below to make a donation.