Paul Davis will be the featured artist at the 2016 Arts and the Park event.
Paul Davis was born in Providence Rhode Island in 1946. He served in the U. S. Air Force from 1965 to 1969. He received a B.F.A. and an M. /f. A. from Boston University. He has taught painting anUtah for twenty-five years where he was a professor and Department Chair. He is currently Professor Emeritus at the University of Utah. He was the first recipient of the Utah Visual arts Fellowship. He has also been awarded an NEA Visual Arts Fellowship. His work is in the collections of the Utah museum of Fine Arts, the Springville Museum of Art, and the Fremont Museum among others. He has had one person exhibitions in Washington D. C. New York City, San Francisco and many other cities.
In 2014 he was recognized as one of Utah's 15 most influential artists by The Utah Museum of Fine Arts and the online arts magazine: 15 Bytes. Recipients came from all areas of the arts.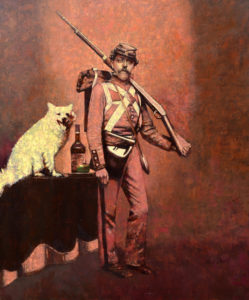 In these figure paintings the color of the light is something which I hope will allow people to meet the figures on a kind of middle ground of psychological space and time. They are not meant to be seen as if are in their own time but rather seen looking back from our own, which is the way we experience them, not the way they experienced their own existence. I don't know why the past emerges so consistently in my paintings. In some ways the past is incomplete, unknowable and mysterious. The paintings allow me to experience it in an imaginative way. – Paul Davis