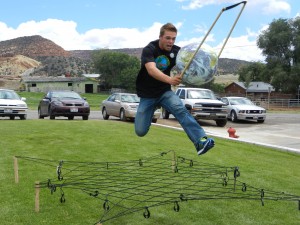 The 18th annual Bicknell International Film Festival (BIFF) kicked off with the "world's fastest parade" from Torrey to the Wayne Theatre in Bicknell on Friday evening July 20. Thunder and lightning provided a perfect backdrop for the "It's Doomsday 2012" theme. Participants from as far away as England and Saudi Arabia enjoyed the 1962 feature film "Panic in Year Zero." The evening concluded with a dinner party at Rim Rock Patio featuring the band Sister Wives.
The Saturday activities expanded to include games in addition to the traditional lunch and matinee. To provide outdoor space near the theatre for the Doomer challenges, the lunch was held at the Bicknell Park this year. Ten teams competed in four events including the Dit Dat Dash, Hydro Hustle, Anyone Out There Challenge, and Save the Earth Relay. The photo on the right shows a Doomer contestant trying to SAVE THE WORLD! BIFFers also enjoyed an afternoon matinee featuring the 1965 film "A Crack in the World".
The festival concluded with the locally produced film titled "BIFFman 2: The Next Generation" along with the 1951 classic "When Worlds Collide". The "It's a Wrap" party held at Robber's Roost and featured the band Main Street Revelators.
Thanks to our many sponsors including the Entrada Institute, Saddlery Cowboy Bar and Restaurant, Utah Public Radio, Utah Film Commission, Utah Office of Tourism, Wayne County Travel Bureau, Robber's Roost Bookstore, Rim Rock Patio, USU Extension, Red Cliffs Restaurant, and Red Sands Inn. Also, thanks to theatre owner Tory Davis, the BIFF committee, as well as the program emcees Annette Lamb and Larry Johnson.
Want to see photos and video from the event? Go to BIFF 2012.