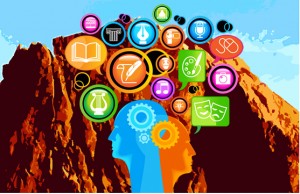 The Entrada Institute will award $2000 to a writer or artist to support work that encourages dialogue and discovery about the natural treasures and peoples of the Colorado Plateau. Applications for the Entrada 2013 Artist-in-Residence stipend are due by January 3, 2014.
The Entrada Institute, a nonprofit organization from Torrey, Utah, has a two-fold mission: to support artists, writers, humanities scholars, and earth and social scientists in their development of new works, and to promote understanding and appreciation of the natural, historical, and cultural heritage of the Colorado Plateau. In addition to the artist-in-residence program, Entrada funds scholarships to Wayne High School students and presents a series of Saturday evening events during the summer and fall in Torrey, Utah.
Entrada has awarded the annual artist-in-residence grant to artists and writers working on a variety of projects for over a decade. In 2012, Dr. Marden Pond, a composer, arranger, conductor, producer, author, and educator, used the grant to create a musical multimedia tribute to the Colorado Plateau titled "Visages in Stone – Voices in the Wind." The 2011 stipend went to noted art historian Dr. Will South to write an essay for publication about the life and art of the late artist V. Douglas Snow.
To apply for the Entrada 2014 Artist-in-Residence award, please send a non-returnable portfolio of your work with a letter that describes your proposed project, demonstrates how it supports Entrada's mission, and outlines how you would present your funded project at an Entrada Saturday evening event in October 2014. Electronic applications are preferred. The winner will be notified by email and announced on the Entrada web site on March 1, 2014, and the stipend awarded by April 1. Submit applications by January 3, 2014, to:
Kirsten Allen
Kirsten.j.allen@gmail.com
2806 Melony Drive
Salt Lake City, Utah 84124