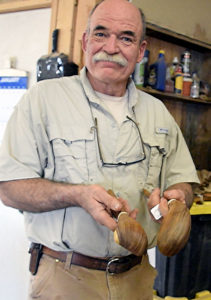 Sawmills, campfires, and wood crafts are all part of local tradition. How does your family use wood harvested from our area forests?
From native peoples and pioneers to modern wood crafters, people have been using local wood to produce arts and crafts for generations. Wayne County wood crafters create everything from bowls to wood toys. For instance, Troy Anderson of Fremont is known for his wood spoons, while Dennis Hiskey of Teasdale creates toys along with other wood items.
4-H Teen Leader C.J. Torgerson's family has deep roots in Wayne County's timber industry. He states that "coming from a long line of family members in the logging industry, I can personally attest to the importance of logging and woodcrafts as a part of our heritage. I am very excited for the kids to be learning about the rich history of the timber industry in this area."
Our cultural heritage of wood and crafting is the second of six themes being explored as part of the Sparking Humanities Conversations grant project funded by a grant from the National Endowment for the Humanities. The Entrada Institute is partnering with USU Extension and 4-H to provide four youth events along with a community dinner scheduled for February 21 at 6PM at the Wayne County Community Center in Bicknell. The community night will include a free meal, historical perspectives on local sawmills, exhibits and demonstrations of locally made wood products, along with wood-related activities. To register for the free meal, call the USU Extension/4-H Office at 435-836-1312.
If you have locally produced woodcrafts you'd like to show in our "woodcraft exhibition" during the dinner, please let us know. Or, if you have a woodcraft technique you're willing to demonstrate, we can set up a table where you can share. Do you have local, historical photos of our sawmills, people cutting firewood, creating wood crafts, or children around the campfire? If you're willing to share, please send them to Annette Lamb at info@entradainstitute.org or call 435-425-3415. LIKE us at facebook.com/sparkinghumanities. – Annette Lamb, The Entrada Institute