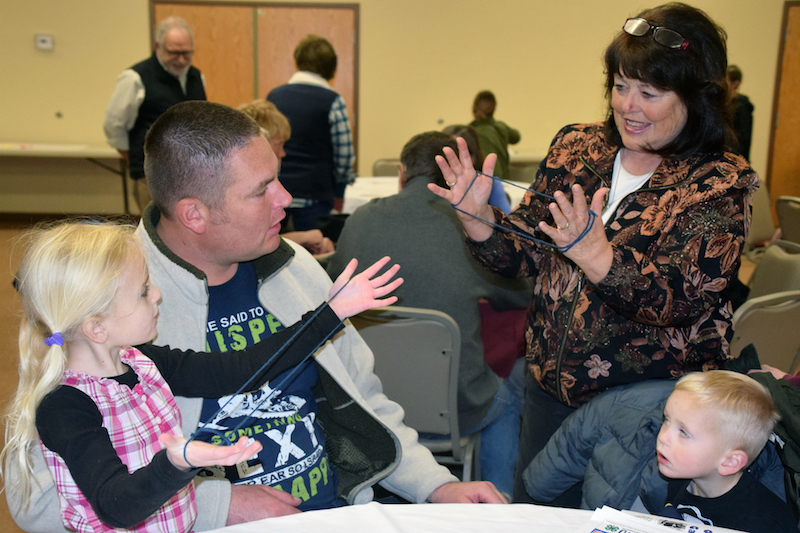 Photo credit: USU Extension Agent GaeLynn Peterson shares the Cat's Cradle game. Photo by Annette Lamb
Over 80 people participated in the first of six Wayne County community dinners this year focusing on local cultural heritage themes. USU Extension FSNE Nutrition Education Assistant and local chef Kate Chappell prepared foods that Wayne County pioneers would have eaten this time of year including beef and wild rice. The appetizer course was traditional Johnny Cake (cornmeal flat bread) with smoked duck. Pioneers would have been eating smoked meats this time of year. The cornmeal flat bread was a local family recipe. Kate stated that she'd "served the smoked duck as part of a healthy living snack during one of the after-school youth activity. Although kids thought they'd hate it, most of them loved the smoked duck."
Participants enjoyed a healthy meal, played games, and shared their memories of game playing. Children shared games they had invented and challenged adults to checkers, chess, and other traditional games. Participants could vote for their favorite board game, traditional game, outdoor game, and video game. Games including Jacks and Yahtzee along with conversations cards were placed on each table. These cards included memories of local residents, lists of games, and other discussion starters along with questions to jumpstart conversations. Those competing a series of activities were awarded a special prize.
During the month of February, Wayne County 4-H youth will be exploring our cultural heritage of wood and crafting through four after-school programs (Feb 6, 8, 13, 15). Activities include exploring how native peoples and pioneers used our forests and trees through history, learning about wood tools and creating wood crafts, and playing games focusing on wood projects, Utah trees, and local Wayne County sawmills. These activities are designed for young people grade 3 and up.
In addition, the entire community is invited to join in the fun on Wednesday night February 21 at 6PM for a free dinner, conversation, and chance to explore wood and wood crafting at the Wayne County Community Center in Bicknell including exhibits and demonstrations of locally made wood products. To register for the free meal, call the USU Extension/4-H Office at 435-836-1312. Parents can register their children for the after school programs online at http://ut.4honline.com.
This project is made possible through a generous donation from the National Endowment for the Humanities and the Entrada Institute. For additional information, contact Project Director Annette Lamb at info@entradainstitute.org. LIKE us at facebook.com/sparkinghumanities. – Annette Lamb, The Entrada Institute
Thanks to everyone who participated in the Community Dinner. Our next dinner will explore the theme of Our Cultural Heritage of Wood and Crafting. It will be held Wednesday February 21 at 6PM. Everyone is welcome. Read an article about our dinner and upcoming events at http://www.insiderutah.com/2018/02/01/community-dinner-celebrates-cultural-heritage/