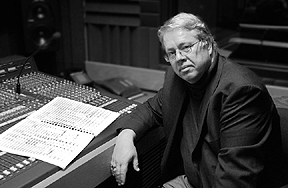 The Entrada Institute has named Utah composer Dr. Marden Pond the 2012 Artist-in-Residence award recipient. Pond intends to compose "a suite of musical soundscapes… relating to the enigmatic rock art found throughout the Colorado Plateau." This suite is intended to "create an emotional response to these fascinating visual art treasures."
Enjoy audio excerpts of Pond's compositions:
Aquascape
Kenbabwe
Night's Dream
Shadow Dance
Solar Wind
Windchime
To learn more about Dr. Marden Pond, visit his website.
The Artist-in-Residence Program
Awarded annually for the past decade, the Entrada Institute is awarded to an artist to support development of new work that encourages dialogue and discovery about the natural treasures and peoples of the Colorado Plateau. Recen
t examples include the 2011 award to noted art historian Dr. Will South for an essay to be published by the University of Utah Press in Final Light: The Life and Art of V. Douglas Snow, a fine art book to be released during the winter of 2012. In 2010, Ann Torrence used the award to produce a photographic essay about volunteerism in Wayne County, Utah.