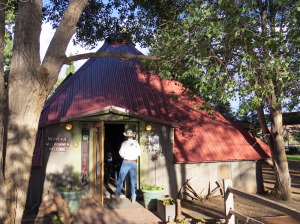 In response to questions that some of you have asked about the future of the Entrada Institute and Robbers Roost Bookstore, the Scholl family, owners of the business; and Carol Gnade, president of the Entrada Institute, wanted to provide you with the following explanation.
As some of you might have heard already, after 18 always-eventful years, Robbers Roost will not be opening this year. It was a tough decision, but operating a business is a difficult enterprise. In this instance, that difficulty was compounded because the family members are not in Torrey full time. Ultimately, this led the Scholls to make the tough decision to close a beloved but time-consuming endeavor. There was surprisingly little drama involved in the decision — only a host of good memories and gratitude to the dedicated staff, loyal customers, and fellow business owners in Wayne County, who know first-hand how tough it is to operate a successful business with such a short season. The family especially wants to thank its amazing staff and managers, all of whom provided extraordinary service.
The other question that many of you have asked is what the closure of Robbers Roost means for Entrada. The answer is that there will be very few visible changes. The Saturday Sunset Series events will continue to be held at Robbers Roost, as will many of the institute's signature events, including the Cowboy Poetry and Music Gathering, parts of Art and the Park, the Youth Music Festival, and the Women's Music Festival. The Entrada Institute's float will be back in the Apple Days Parade again this year (assuming we can get it running!), and there will continue to be regular concerts on the outdoor stage. In short, very little will change regarding the Entrada Institute, despite the fact that the bookstore will no longer be operating.
Also, regarding Entrada, many of you have asked about our capital campaign and long-range plans to move into the space next door to Robbers Roost, which Entrada was able to purchase last year, thanks to a low-interest loan from a very generous supporter. Those plans continue to move ahead (we'll be happy to show any of you the architectural renderings of the grounds, the new stage, and other exciting details). But even after Entrada moves into its new home, the Scholl family and the Entrada board will continue to work closely with one another to take advantage of the opportunities to collaborate on programs and special events designed to enrich the cultural and artistic lives of Wayne County residents, drive economic development, and increase the understanding and appreciation of this spectacular area that we all love.
If you have questions or would like to discuss any of the above, feel free to call or email any of us. We would be happy to talk with you.
Warm regards,
Carol Gnade
President
The Entrada Institute
carolgnade@mac.com
The Scholl Family
torreybarry@gmail.com