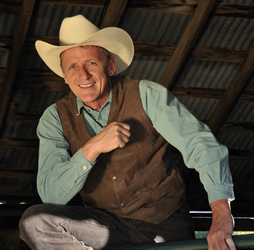 Torrey, Utah, is indisputably ranching country.  Among locals, well-worn pickups outnumber Priuses by a magnitude of something like 10 to one, cowboy hats are practically required attire, and the celebrated horseback outlaws of the Wild Bunch used to hang their spurs here when they weren't out robbing banks, rustling cattle, and otherwise raising mischief.
After almost 15 years, the Torrey Cowboy Poetry and Music Festival, sponsored by the nonprofit Entrada Institute, has settled comfortably into the community like a pair of thousands-times-washed Wranglers. Now held annually on the Saturday of Memorial Day weekend on the park-like grounds of Robber's Roost Books and Beverages, the festival spotlights local and regional Western musicians, as well as cowboy and cowgirl poets and storytellers.
Whether you're a buckaroo or a tenderfoot, the festival holds something that will appeal—from rough-hewn traditional verse to polished Bob Wills-style saddle serenades.  One of this year's highlights promises to be the Cross Town Cowboys, a California-based trio that specializes in traditional and original Western fare.  The Cross Town Cowboys have been widely lauded and their debut Save the West! was nominated for "Best Cowboy/Western Swing Album" for 2008 by the Western Music Association.
A complete schedule of events will be released by April 1. Watch for the next issue of the IAMA Newsletter, or go online to www.torreymusicfestival.com for a complete itinerary and other information.
A word to the wise—Torrey is located at 7,000 feet and can get cool at night even in late May, so wear your lined Levi jacket and bring a warm blanket, as well as your favorite folding chair.
For more information, visit www.entradainstitute.org or call Robber's Roost Books at 435-425-3265.  Tickets are available at the gate.
by Steve Lutz