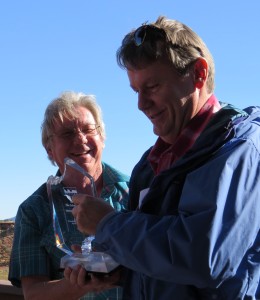 This year, the Scholl family received the Friends of Entrada award.
Barry Scholl was the editor of Catalyst Magazine when he heard about Ward Roylance. Ward had a habit of writing grumpy letters to various newspapers about preserving the beauty of southern Utah while making tourism a bigger focus of the economy. Barry traveled to Torrey to interview Ward at his home, (now the Robber's Roost Bookstore). The two hit it off immediately and soon hatched a plan to start the Entrada Institute to bring culture, science, humanities and appreciation of the Colorado Plateau to the residents of and visitors to Wayne County. With the assistance of several other Wayne County enthusiasts, the fledgling organization began offering hikes and talks often led by Barry or Ward or their wide variety of contacts. But within 2 years Ward and his wife were dead and his plan to leave his beloved home to Entrada incomplete.
Barry and Tiffany Scholl, Barry's sister Laura and another partner stepped in to purchase the property and establish it as a home for Entrada and a haven for creative thought, nature, music and good coffee. Over the years it has become hard for many people to tell the difference between Robbers Roost and the Entrada Institute, but the bookstore is totally owned by the Scholls. Entrada owns a small shed and the stage on the Robber's Roost grounds. Barry continues on the Entrada Board and the Scholls have generously supported the Entrada Institute in every way possible. There likely would be no Summer Sunset Series events, no Bernice Scholl Entrada Scholarship at Wayne High and Wayne County would be a poorer place without Entrada and the Scholls.