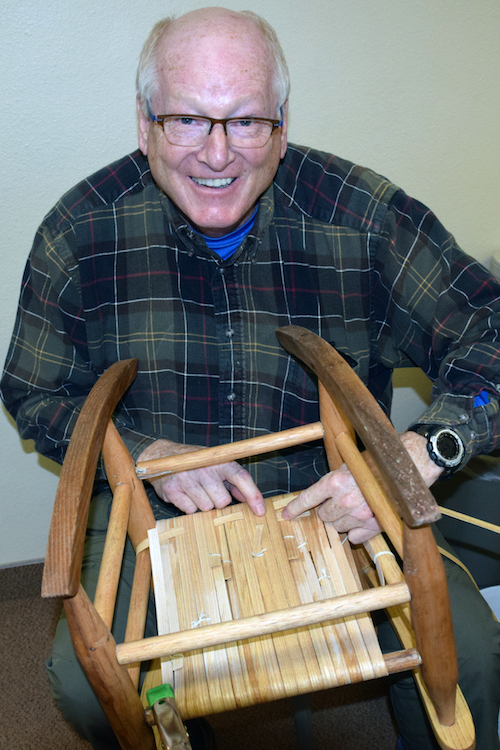 Photo Credit: Larry Johnson demonstrated ash splint weaving. Photo by Annette Lamb
From Weaving Rugs to Raising Chickens: Celebrating Cultural Heritage
On March 14, the third Cultural Heritage dinner was held in Wayne County. The free event featured Larry Johnson demonstrating ash splint weaving techniques, exhibit tables featuring both antique and recently produced rugs and baskets, and weaving activities for participants of all ages.
During the month of March, the 4-H youth program is shifting their focus to hatching, raising, and consuming chickens. Their incubator is humming and they're hoping to have adorable chicks to cuddle (not eat) at the community dinner planned for Wednesday March 28 at 6PM at the Wayne County Community Center in Bicknell. This free event is open to families and individuals of all ages. If you're planning to come, please call the USU Extension/4-H Office at 435-836-1312 or Annette Lamb at 435-425-3415 to let us know how many will be attending.
Raising poultry has a long local tradition. Turkey were raised and hunted by early Native Americans in Utah. When the pioneers arrived in the late 19th century, they brought their European heritage of raising chickens and producing eggs. According to Anne Snow's Rainbow Views: A History of Wayne County, both chicken and turkey raising was an important industry in the county from the 1930s into the middle part of the 19th century. Recently, raising laying hens has increased in popularity.
We're seeking people who would like to bring locally produced eggs or chicken setup ideas for our exhibition. If you sell eggs, bring a flier/cards to share so we can connect buyers with sellers. We'll also have a great dinner and lots of fun, family activities for all ages. Send us historical photos, pictures of your chicken houses, or your favorite chicken techniques. Contact Project Director Annette Lamb at info@entradainstitute.org. This project is made possible through a generous grant from the National Endowment for the Humanities with matching funds from the Entrada Institute. LIKE us at facebook.com/sparkinghumanities. – Annette Lamb, The Entrada Institute