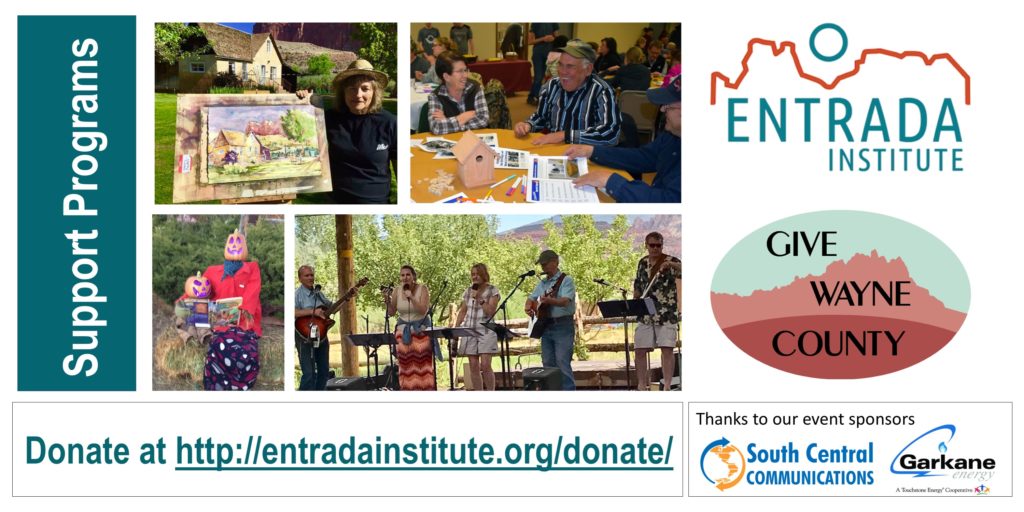 For more than 20 years, you have entrusted us by donating your time and money to make the Saturday Sunset Series happen!  But did you know that for every dollar you give we leverage it to achieve a social return on investment of more than 27:1? This matters even more as we do "placemaking" together to stretch the season, maintain our dark skies, build out the Entrada Center and create a common vision of the community and future together.
The Entrada donor site is now live and and ready for Wayne County residents and people from across Utah to join together and "point, click and donate" to one of Entrada's programs or special events!
Help us match $10,000 toward the following programs:
$10         General Fund
$25         Friend of Arts, Humanities, and Sciences
$25         Heritage Starfest at Capitol Reef
$25         Cowboy Poetry & Music Festival
$25         Annual Arts and the Park:  Light on the Reef
$25         Harvest Time Scarecrow Festival
$25         Artist in Residence – Arts and Sciences
$25         Youth Scholarships
$50         12th Annual Women's RedRock Music Festival
$75         National Endowment for Humanities Programming Match
$75         New Stage Equipment
$150      Entrada Center Development
We thank you for your continuing support and invite you to join us on-line at your convenience or in person at Robbers Roost (4:00 p.m. to 7:00 p.m.) on event day Saturday, April 7 to contribute in celebration of the music, art, natural history and traditions of the Colorado Plateau.  We'll have snacks, refreshments and live music waiting for you! 
Our goal is to raise $10,000 in just one day!  "Friends of Entrada" have already pledged $10,000 in matching grant funds to use toward event day challenges.
Ready to donate? Do to https://www.entradainstitute.org/donate/.
Please go to https://www.entradainstitute.org/  for more information about the work of the Entrada Institute.
Share our posts on social media! Every share on social media elevates your donation.  Shares help the Entrada Institute raise on average $18 dollars more in funding.