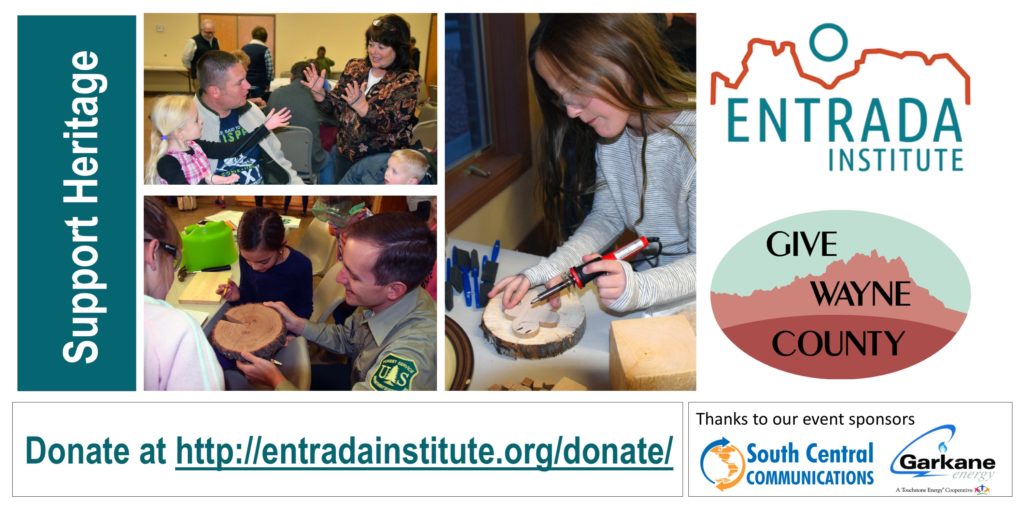 Give Wayne County's annual week of giving has been a great success already.  And YOU can help us raise more funds to deliver the new programs you love, like the National Endowment for the Humanities youth and community cultural heritage programs that we launched this year.
It's an amazing day! And you can make a powerful difference with a simple point and click. Please visit https://www.entradainstitute.org/donate/ and join in this once annual week of giving.
Our goal is to raise another $10,000 by the end of the week.  Working together, we know we can reach this goal.
Please help us by giving generously.
$10         General Fund
$25         Friend of Arts, Humanities, and Sciences
$25         Heritage Starfest at Capitol Reef
$25         Cowboy Poetry & Music Festival
$25         Annual Arts and the Park:  Light on the Reef
$25         Harvest Time Scarecrow Festival
$25         Artist in Residence – Arts and Sciences
$25         Youth Scholarships
$50         12th Annual Women's RedRock Music Festival
$75         National Endowment for Humanities Programming Match
$75         New Stage Equipment
$150      Entrada Center Development
To donate today, please go to https://www.entradainstitute.org/donate/