Photos bring history alive for people of all ages. However they're particularly important as a way to share cultural heritage with children. Whether enjoying family pictures or examining historical photos taken in familiar locations around rural south-central Utah, the National Endowment for the Humanities Spark Squad project will be igniting conversations about local history over the next three years.
Cultural Heritage
Cultural heritage is the legacy of a particular group of people with specific attributes such as native people of the Fremont Culture or the first pioneer families of our small towns. This legacy is built by preserving the past, maintaining traditions, and nurturing future generations.
Christmas gatherings provide a wonderful opportunity to tell family stories, collect and organize photos, and share traditional crafts and foods.
During the next few months, we'll be sharing photos from local history in the Insider, as part of 4-H youth activities, and in evening community events.
Join the Fun
Join in the fun by trying to guess the 5Ws (who, what, where, when, and why) of photos we'll be sharing. For example, examine the photo of the three boys holding fish. Who is in the photo? What kind of fish did they catch? Were the fish caught in a lake or river? Where was the photo taken? When was this photo taken? Why are they wearing overalls? How did these kids catch the fish? Did they catch them with a store-bought pole, a hand-made pole, or by hand? Share the photo with your friends and family. What are their thoughts?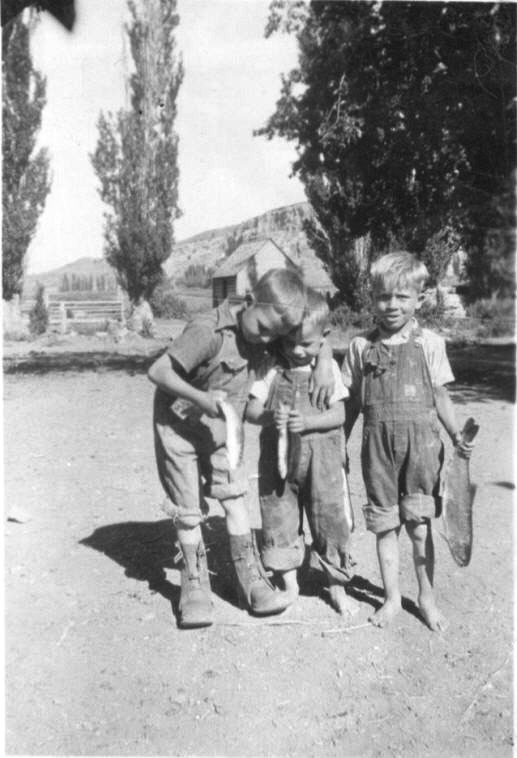 Spoiler Alert… here are the answers. This is a photo of Arlo, Steven, and Clifton Forsyth. The photo was taken in the mid 1940s along what's now Highway 24 between the Old Grist Mill and Red River Lodge between Bicknell and Torrey. The boys are wearing overalls because that's what most rural kids wore during this time period. The children caught these trout in the Fremont River with their bare hands. Thanks to Lyman Forsythe for the photo.
Digitization
Digitization is one part of a larger process of preservation that's at the core of promoting cultural heritage. Taking photographs of buildings before they're demolished, scanning old photos that are slowly fading, and preserving treasured objects are all ways we can help preserve our past. In addition to preserving tangible objects, digitization may also involve recording the intangible culture like personal memories, traditions, anecdotes, and oral histories to preserve stories and language.
Natural heritage is of particular interest in our area because of the beautiful landscapes and traditions rooted in the lands including ranching and recreation. If you examine the fishing photo closely, you can use the landscape to identify exactly where this photo was taken nearly 75 years ago.
Get Involved
If you'd like to get your children involved in exploring cultural heritage, enroll in our 2018 4-H programs starting in January. Individual community members and families are invited to our Wednesday evening community events. Contact the USU Extension/4-H office at 435-836-1312 to register for the programs or free dinner.
You can help preserve our amazing past by contributing historical photos to the project. Simply scan or take photos of your historical images and email them to Annette Lamb at info@entradainstitute.org. Or, give us a call at 435-425-3415 and we'll come to your home to help. If you'd like to participate in our activities, go to https://www.facebook.com/sparkinghumanities/. – Annette Lamb, The Entrada
You can also read the article at the Insider.