On June 30, 2012 Mary O'Brien provided an engaging presentation focusing on the reintroduction of beaver into Southern Utah including the Fishlake and Dixie National Forests.
Mary O'Brien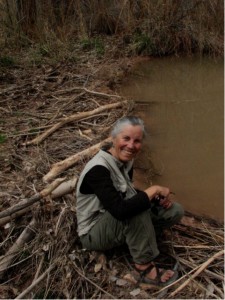 The Southwest is a Climate Change Central. Utah is now turning toward its ancient resident, beaver, to help take care of the water we need, and the wildlife that have long lived with beaver.  Mary O'Brien of Grand Canyon Trust reviews Utah's history with beaver, its new plan for restoring beaver, and why both matter.
As the Program Director for the Utah Forests Program with the Grand Canyon Trust, Mary O'Brien coordinates efforts to obtain greater care for native wildlife, vegetation, and ecosystems on southern Utah's Dixie, Fishlake, and Manti – La Sal National Forests. Mary has worked as a staff scientist for toxics reform, environmental law, and public lands conservation organizations for 28 years. She lives in Castle Valley, Utah, and thinks backpacking and hiking are particularly amazing ways to spend days on Earth.