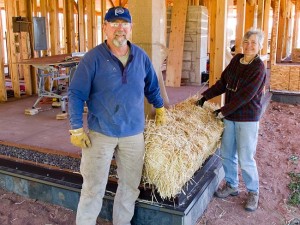 Saturday Sunset Series Event
Presentation – Saturday August 4, 2012 7:30 PM
Tour – Sunday August 5, 2012  10:00AM 
Robber's Roost Bookstore, Torrey, Utah
Scott and Mary will talk about the history of straw-bale houses, modern bale construction in general, and specifically their (on-going) experience of being owner-builders of a timber-frame, straw-bale, mud-plastered house.
In 1993, they bought property in Torrey. They began building their house in 2009. When their home is complete, they'll move to Torrey full-time.
SPECIAL EVENT. In addition to their presentation, they will be hosting a tour of area straw-bale homes on SUNDAY at 10:00AM!