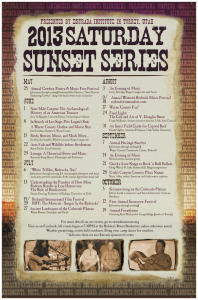 Check out the 2013 Saturday Sunset Series.
To explore photographs from the 2013 season, go to
Halloween Party
Harvest Time Scarecrow Festival: Part 1, Part 2, Part 3
If you have a suggestion for an Entrada event contact us.
Print your own PDF version of the 2013 calendar.
To view the schedule from past Saturday Sunset Series, go to 2011, 2012.
The events for the 2013 season can be found below:
Entrada Institute Sunset Series 2013
May 25, 2013
Annual Cowboy Poetry and Music Free Festival
(afternoon through evening)
Featuring Mike Moutoux, "New Mexico's Enchanting Cowboy" along with local cowboy music and poetry
June 1, 2013
Nine Mile Canyon: The Archaeological History of an American Treasure
Jerry D. Spangler, Colorado Plateau Archaeological Alliance
June 8, 2013
In Search of Lee Sage, Pete Logan's Son:
A Wayne County Outlaw and Movie Star
Joel Frandsen, Outlaws of Wayne County
June 15, 2013
Birds, Stories, Music, and Much More…
Jen Hajj, Bird handler, Wildlife educator, Singer/songwriter
June 22, 2013
Area Fish and Wildlife Before Settlement
Steve Taylor, Local historian
June 29, 2013
Lounge: A Theatrical Story and Music
Raymond King Shurtz, Playwright and Performer
July 6, 2013
"White 'N Blue, Redrocks, Too"
(afternoon through evening)
A star-spangled afternoon with local musicians, patriotic interludes, and the annual Apple Days book sale
July 13, 2013
Understanding the Paradox of How More Rodents Results in Less Hantavirus: The Role of Biodiversity
Denise Dearing, Professor of Biology, University of Utah
July 19-20, 2013
BIFF: The Musicals – Singin' In the Redrocks"
Bicknell International Film Festival
July 27, 2013
Ancient Landscapes of the Colorado Plateau
Wayne Ranney, Geologist and Guide
August 3, 2013
An Evening of MusicLarry Estridge, Singer/songwriter and Artist
August 9-10, 2013
Annual Women's Redrock Music Festival
August 17, 2013
Wayne County Fair*
August 24, 2013
Final Light: The Life and Art of V. Douglas Snow
Frank McEntire, former executive director, Utah Arts Council
August 31, 2013
An Insect Field Guide for Capitol Reef
Heath Ogden, Assistant Professor, Utah Valley University
September 7, 2013
Annual Heritage Starfest
(afternoon through midnight)
Wayne County Community Center, Bicknell
September 14, 2013
An Evening of Music
Sweet Loretta, musical group

September 21, 2013
Quirky Love Songs to Rock 'n Roll Ballads
Doug Wintch & Anke Summerhill, Singer-songwriters
September 28, 2013
Utah's Canyon Country Place Names
Steve Allen, author, historian, and backcountry explorer
October 5, 2013
Screenwriting on the Colorado Plateau
Jeffrey Gold, screenwriter and Entrada Institute's Artist-in-Residence
October 12, 2013
First Annual Scarecrow Festival
(afternoon through evening)
October 19, 2013
Annual Friendraiser
Featuring Kate MacLeod at Cougar Ridge (south of Torrey)
For more details on our events, go to entradainstitute.org
To visit us at Facebook, go to https://www.facebook.com/pages/Entrada-Institute/114495478437
All events begin at 7:30PM at the Robber's Roost Bookstore unless otherwise noted.
Weather permitting, events held outdoors. Bring your camp chairs for comfort.
* Indicates these are not Entrada-sponsored events