Joel Frandsen presented a fascinating program on Saturday June 8, 2013 titled  In Search of Lee Sage, Pete Logan's Son: A Wayne County Outlaw and Movie Star.  Joel's presentation was based on an article he wrote and published in The Outlaw Trail Journal (2008).
Joel retired as the State Forester/Director for the Division of Forestry, Fire and State Lands in Utah's Department of Natural Resources.
He's currently a student of western history, legends and folktales with a passion for the outlaw-lawmen era of the Intermountain West.
The evening kicked off with three songs about outlaws by Lightning Ridge.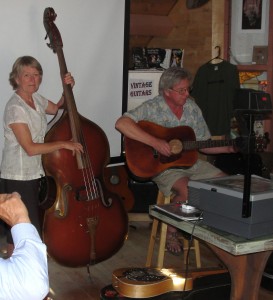 Joel included references to lots of area locations familiar to the audience. In addition to Pete Logan and Lee Sage, Joel told stories about other outlaws of Utah. Joel concluded by discussing the writing and movie career of Lee Sage. The group enjoyed seeing Lee Sage on the "big screen" in his 1932 movie.