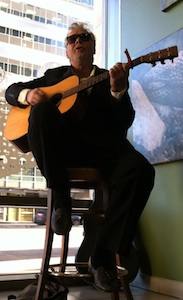 Each year, the Entrada Institute is proud to present a theatrical performance as part of the Saturday Sunset series.
Lounge is a theatrical story and music of one man's experience as a lounge singer. "Singing lounge is an art form," says Raymond, "and sadly, much of it is disappearing in the computer age."
"If you've ever wondered about the story of the man or woman singing lounge in a hotel lounge in one of America's cities or towns, you must see this show!"
Filled with stories of the road, stories behind the microphone, LOUNGE is filled with that romantic longing within us all.
"One more town, one more gig, one more song, and I'll find what I'm looking for…"
Biography
Playwright, poet, performer, musician, director, designer, and teacher, Raymond is a fourth generation pioneer from Garfield County, his mother born and raised in Boulder, Utah, and father Escalante. Raymond's work includes thirty-three plays, scores of songs, and twenty five years of performing much of his own work. Published works include two plays with Dramatic Publishing, one with Samuel French Inc. and his book, BOHEMIAN COWBOY, POEMS AND SONGS is scheduled for publication later this fall with SILVER BIRCH PRESS, LA. Directing credits include the 2012 production of Pulitzer Prize winning playwright, Nilo Cruz's, LORCA IN A GREEN DRESS.
Raymond currently makes much of his living singing lounge in honky-tonks and rooms all around the Southwest as a singer/songwriter.