Introducing Sweet Loretta — Former Vapor Trails Return to Torrey with New Name, Familiar Americana Energy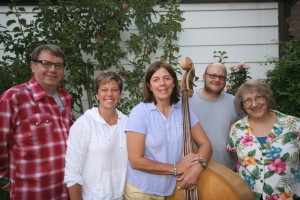 On Saturday, September 14, Sweet Loretta, formerly know as the Vapor Trails, return to Torrey for a 7:00 p.m. performance at Robber's Roost Bookstore, 185 W. Main. The performance is sponsored by the Entrada Institute.
In preparation, the band issued a press release addressing three of the questions they are most commonly asked.
First, why the new name? "Apparently, everyone except us knows that a certain Canadian Prog-Rock trio has a 2002 album called Vapor Trails," explains vocalist-guitarist Dianna Cannon. "We got tired of people asking us if we were a Rush tribute band."
Perhaps more seriously, the band elaborates that for the past several years, they have increasingly been influenced by the Americana movement, which has brought widespread success to artists like Allison Krauss, Mumford & Sons and Gillian Welch, and led to renewed appreciation for veterans like Bonnie Raitt and Ry Cooder. It's no coincidence that the band's repertoire includes songs by Welch, Raitt and Nanci Griffith, alongside originals and traditional numbers. "Sweet Loretta just sounds more traditional than Vapor Trails," says Debora Threedy, who plays hammered dulcimer in the band. "It seems like a better fit."
Second, why should people give up a free Saturday night to come hear them?  "We're thrilled to be returning to the Robber's Roost stage as the guests of the Entrada Institute," says guitarist and dobro player Barry Scholl. "We've got new songs, rearranged old songs, and even a few surprises, including the Torrey debut of our now not-so-new bass player and vocalist Kay Cameron."
"We always have a great time in Wayne County," adds J.S. "Shawn" Foster, who switches between fiddle and mandolin while contributing harmony and occasional lead vocals. "Going way back to when we played at the late, lamented Torrey Music Festival, it's always been one of our favorite destinations—a very inspiring place."
Third and finally, what's next after their September 14 performance in Torrey?  More performances, including a gig at the University of Utah S.J. Quinney College of Law's Centennial Gala on September 20. The band has also recorded several songs for their long-simmering CD and plans to return to the studio to finish another batch of new material. "We're bursting with ideas right now, and can't wait to get them down on tape, or at least hard disk," says bassist-vocalist Kay Cameron. "At this rate, we might finish it sometime in the next decade."