The American Southwest is world-renown for its colorful rocks and spectacular landscape features like the Grand Canyon, Monument Valley, Capitol Reef and Canyonlands. But how did these geologic marvels form and what do ordinary rocks tell us about their very ancient history?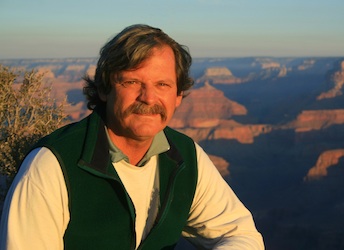 You'll be amazed to learn that the Southwest was once the site of warm, tropical beaches; shifting dunes in sandy, Sahara-like deserts; coastlines stalked by large dinosaurs; and rivers that once flowed towards the present-day site of the Rocky Mountains.
These long-lost and surprising scenes from the past come alive in paleogeographic maps that are visually stunning and scientifically accurate.
During his talk titled Ancient Landscapes of the Colorado Plateau, you'll travel backward and forward in time with expert scientist Wayne Ranney, who is the author of numerous award-winning books on Southwestern geology. Ranney is an engaging lecturer who leaves audiences spellbound as they learn about the history of this beloved landscape.
Ranney will have copies of his book for sale after the talk.
Biography: Wayne Ranney – Geologist and Guide
After working in the bottom of the Grand Canyon during the 1970s, Wayne Ranney felt inspired to pursue his bachelor's and master's degrees in geology at Northern Arizona University. His research interests include the stratigraphy of the Colorado Plateau, earth history and the evolution of landscapes.
Wayne is the author of eight books including "Sedona Through Time", "Carving Grand Canyon" and "Ancient Landscapes of the Colorado Plateau". He is a regular contributor to many magazines and scientific publications and has appeared as a guest scientific commentator in seven television documentaries.
Wayne serves on the Board of Trustees for the Museum of Northern Arizona and works as a trail and river guide for the Grand Canyon Field Institute. He teaches part time in the Honors Program at Northern Arizona University in his hometown of Flagstaff, Arizona.
His international guiding has taken him to over 80 countries in the world, including Siberia, the Amazon River and both the North and South Poles. He has traveled to Antarctica 30 times but his love remains with the red rock landscapes of Northern Arizona.
To learn more about Wayne, check out his website at http://www.wayneranney.com and blog site at http://earthly-muisings.blogspot.com.