What Is The Colorado Plateau
by A.J. Martine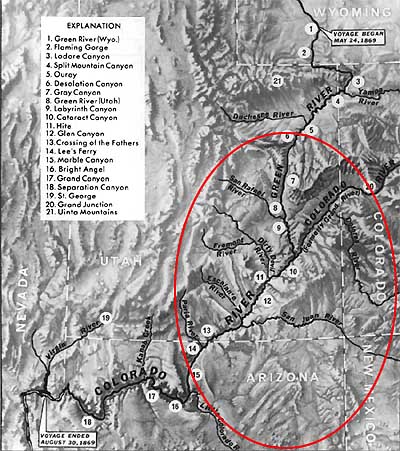 The Colorado Plateau is a noun. It is the definition of space. It is a breathtaking collage of color, texture, and vast unobstructed distances, wrapped into an immense open space. The Plateau is a place, a physiographic "province," unlike any other in the West or on the planet. Major John Wesley Powell named it the "Colorado Plateaus" when he navigated the Green and Grand Rivers (Colorado River) in 1869.
It is not a plateau, but rather it is a huge primordial basin ringed by mountains and highlands. It is larger than all of the rest of the fifty states except Alaska, Texas, California, and Montana. Its 130,000 square miles sprawl across much of eastern Utah, northern Arizona, northwestern New Mexico, and western Colorado. Much of it is arid, but it is not a desert. It is a diverse place whose ecosystems vary from alpine tundra to desert shrub. Its landforms vary from mountain peaks to mesas that seem to leap from the bottoms of deep, narrow canyons. The Plateau is home to a high diversity of life forms, from rare species in special niches to the abundantly common plants and animals.
The Plateau has been home to diverse cultures like the mysterious paleo/archaic hunters, the Anasazi, and the Fremont. All flourished and then disappeared. Some left beautifully fluted "Clovis Points" in a buried camp site, others their stone houses and the enigma of their rock art. Now it is inhabited by an ethnically and culturally diverse population who call it home — if not fulltime, then for an occasional weekend.
No one can come to the Plateau and not be moved by the experience. If you listen closely you can hear it breathe, you can feel your pulse regulate and try to match its rhythms. The Colorado Plateau is more than a word or a destination; it is a place that defines time and takes time to define.