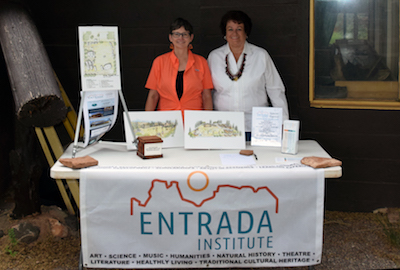 The Pioneer Day celebration was a tremendous success thanks to Becky Pace's job bringing together The Entrada Institute and the Wayne County Interfaith Council. Thanks to Larry Johnson who spend all day Friday and Saturday coordinating on-site activities and cleanup. Three cheers for Mary Bedingfieldsmith, Don Gomes and Lynsey Shelar who performed in the evening program. Also, thanks to board members Annie Holt and Tyler Ward who participated in the event. Also, thanks to Entrada Institute supporter Charlotte Williams and her family for the amazing antique quilt showcase.
Over 300 people from across the county attended the Pioneer Day celebration in Torrey July 22-23 held on the Robber's Roost grounds. Around 250 participated in the potluck picnic alone.
This event celebrated the traditional cultural heritage detailed in the Entrada Institute mission statement. Everyone was thrilled to see a broad cross-section of the community come together for a positive, uplifting event… it was perfect timing considering the rough political times.
This photo album contains an overview of the event: https://goo.gl/ev3fPC 
For more photos, go to the Entrada Institute page at https://www.facebook.com/entradainstitute 
Here are the detailed photo albums:
Behind the Scenes: https://goo.gl/UglQEJ 
Steve Taylor: https://goo.gl/3TqGRn 
Antique Quilt Display: https://goo.gl/wvirdz 
Sheep Wagon Display: https://goo.gl/5ehcRM 
Picnic Potluck: https://goo.gl/Apia1k 
Pioneer Program: https://goo.gl/TBjCsT 
Antique Quilt Collection: https://goo.gl/twCWn7