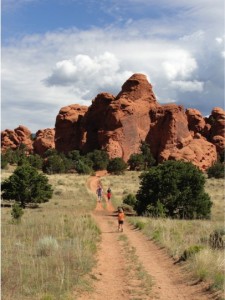 The Entrada Institute programming is designed for those interested in the natural, historical and cultural heritage of the Colorado Plateau. Explore opportunities in the following areas:
To download a master calendar of 2019 programs, go to the printable poster.
Initiatives. Three special initiatives are currently under way:
Placemaking Main Street Initiatives
Event Programming. From May through October, the Entrada Institute presents exciting Saturday evening programs.  Learn more…
Multiple Day Workshops. The Entrada Institute sponsors multiple day workshops. Learn more…
Artist in Residence. Each year, four artists, musicians, writers, scientists or other scholars are selected that support work on a project that reflects the organization's mission. This is a project conducted in conjunction with Capitol Reef National Park. Learn more…
Scholarships. The Entrada Institute sponsors scholarships for high school students. Learn more…
Would you like to make a financial contribution to support our programs? Go to our Donation page.